Island #1 - Moorea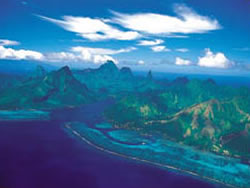 Details:
Only a ten minute flight from Tahiti, Moorea is known for it's lush mountain slopes covered with rain forest and it's white sand beaches bordering crystalline lagoons.
We'll be arriving here first and will stay for three nights at the Intercontinental Beachcomber Resort in a beach suite bungalow.
Island #2 - Manihi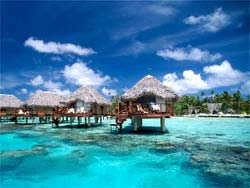 Details:
Manihi is an atoll 312 miles northeast of Tahiti (an hour and a half flight). Well known for it's diving, Manihi has a clear lagoon, which is 3 1/2 miles wide by 19 miles long. The Tairapa Pass, which connects the ocean to the lagoon, is an exhilarating drift dive that ends up in the lagoon of manta rays.
We'll be staying at the Manihi Pearl Beach Resort in an overwater bungalow
Island #3 - Bora Bora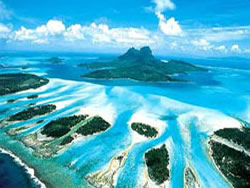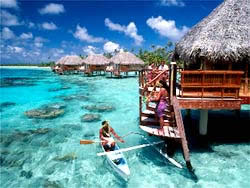 Details:
Only a 45 minute flight from Tahiti, Bora Bora will be the pinnacle of our honeymoon vacation. Unquestionably our most sought after destination, Bora Bora is known as one of the world's most romantic islands. Bora Bora is almost completely encircled by offshore islets and reefs, with only one narrow pass to the open sea, creating a magnificent lagoon of infinite depths and color. From the air, the view of Bora Bora has been compared to that of "a tiny emerald in a setting of turquoise, encircled by a sheltering necklace of sparkling pearls".
We'll be staying at the Bora Bora Pearl Beach Resort for five nights in a premium overwater bungalow. It is located on the island Motu Tevairoa, which has a stunning view of the main island.