The Ceremony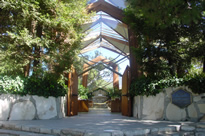 Overlooking the Pacific Ocean and made almost entirely of glass, the Wayfarer's Chapel in Rancho Palos Verdes will be the location for our ceremony.
On Saturday August 23, 2003, our ceremony will begin at 4pm sharp! We ask guests to arrive about 30 minutes early as we have exclusive use of the chapel beginning at 3pm and ending at 5pm.
For directions to and from the Wayfarer's Chapel, please refer to our Directions page.
For more information regarding the Wayfarer's Chapel please visit their website at www.wayfarerschapel.org

The Reception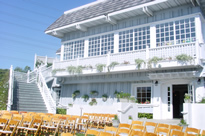 Immediately following the ceremony, we invite our guests to join us at Verandas in Manhattan Beach for cocktails, dinner, dancing, and fun! For our guests who cannot attend the ceremony, the reception at Verandas begins at 6pm.
The drive from the chapel to Verandas is approximately 30 minutes and will not require use of the highways. Enjoy the breathtaking views of the ocean as you head north to the festivities.
For directions to Verandas, please refer to our Directions page.
For more information regarding Verandas in general please visit their website at www.verandasmb.com