Our Honeymoon
Twelve days in French Polynesia spread over three islands
~ day 2: Moorea ~
click here to view all photos from day 2
Because our bodies were still on Pacific Daylight Time, we were up at 7:00am. We decided to visit the onsite dive shop at the hotel, called Bathy's, to see if we could catch the first dive. We were in luck! There was room for us on the boat and to top it off it was a shark feeding dive. Yay!
| | |
| --- | --- |
| view from the dive shop dock | Moorea...from the rear of the dive boat |
So off we went on our first dive in French Polynesia, having just arrived about twelve hours ago, about to jump in the ocean, and feed sharks... We boated out past the breakwater in the middle of the blue ocean. When we found our location, (called The Shark's Dining Room) we instantly saw black-tip sharks circling the boat already. It was quite daunting to see them knowing we were about to jump in with them.
| | |
| --- | --- |
| an anxious black-tip shark...hungry | an anxious asian-diver...waving |
We back-rolled into the water and saw over a dozen sharks circling. We situated ourselves at about 60 feet when our divemaster, Laurent, came down with a giant head of tuna for bait. He was being followed by a huge cloud of fish, smelling the blood of the tuna. Then almost immediately, dozens of sharks began to circle him (and us) - all mainly black tips however we were lucky to spot one lemon shark in the distance. It didn't take long for the sharks to come darting in and thrash apart the tuna head. It was very exciting, it was like we had front row seats in a National Geographic study. Overall, our shark feeding experience was great and definitely unforgettable.
Here is a cool video of the shark-feeding - click on the image below (coming soon)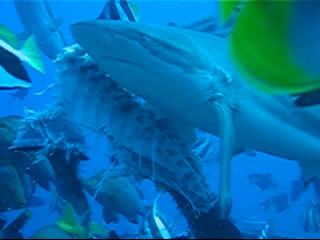 In the afternoon, we booked a 4x4 Jeep tour for the next morning, shopped for some Tahitian Black Pearls, and took a nice stroll around the grounds of the hotel.
And in the evening, we attended a traditional Polynesian dance and barbecue show at our hotel. Unfortunately, due to potential rainfall, the barbecue was held inside the restaurant instead of beachside. It was still quite a spectacle.
That night, the rain poured hard in Moorea. The sound of the rain on our hut was so relaxing that we slept like babies. We were a little concerned, however, about our 4x4 Jeep tour the next day…