Our Honeymoon
Twelve days in French Polynesia spread over three islands
~ day 4: Manihi ~
click here to view all photos from day 4
We left Moorea this morning via Air Moorea back to Tahiti, again on a 10-seater puddle jumper.
While at the Tahiti Faaa Airport, we stopped at the local McDonald's. This particular McDonald's did not have any burgers or fries or even any apple pies. They only served one item (other than sodas) - it was called a "Croque McDo". It was basically a grilled ham and cheese sandwich that the French Polynesians normally call "Croque Monsieur" but you know how McDonald's has to put their name on everything… Jeff bought one and halfway through eating it, while offering a bite to Cheryll, dropped it on the floor of the airport terminal. Needless to say it wasn't that good. We then flew Air Tahiti to Manihi in the Tuamotus, with a stop over in Ahe (pop. 350).
We arrived Manihi airport at about 1:30pm. The airport consisted of a landing strip and a bench with a hut over it! We were greeted with aromatic tiare leis and driven by golf cart to our hotel, the Pearl Beach Resort.
When we arrived at the hotel, we were greeted with tropical drinks (which were really yummy) and cold fragrant towels. We were then taken to our Overwater bungalow. When we walked into the bungalow, we realized how much of a difference this was from our experience in Moorea in a Beach bungalow. This bungalow was also decorated in Polynesian décor and it also had polished wood floors, etc. But it also had a bed that faced our balcony which had a view of nothing but crystal clear blue water filled with hundreds of fish and in the distance, a remote motu, perhaps a pearl farm. All of our small tables (coffee table and both side tables) were glass and opened so you could feed the fish below. There was no air conditioning as it was never needed with the constant ocean breeze. We also had steps on our balcony that led to the water as well as a landing with a shower to rinse.
After taking in the spectacular views and our excitement of being here, we went to the hotel restaurant and had lunch (food here is only okay). We then took a dip in the hotel's eternity pool.
That evening, we had cocktails at the hotel bar and met with the divemaster of the hotel's dive shop (Blue Nui) to sign up for a dive the following morning. We then had dinner (only three entrees to choose from, but luckily, the choices change nightly) and headed back to our bungalow.
We laid on our lounge chairs on our balcony and stargazed for over an hour. We saw Mars, the Milky Way, and some shooting stars. What a beautiful night. It doesn't get more romantic than this. To top it off, the temperature was still in the low 80's.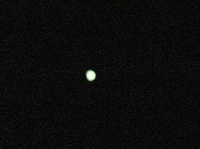 Mars