Our Honeymoon
Twelve days in French Polynesia spread over three islands
~ day 3: Moorea ~
click here to view all photos from day 3
Woke up this morning at 7am with the rain still coming down, we slept so well last night! We got ready and headed to the hotel restaurant for breakfast, still concerned about the weather. When the 4x4 Jeep picked us up at 8:00am, it was still drizzling. But, it eventually turned out to be a gorgeous day. We shared the jeep with three other couples - Benjamin and Joanna from Paris, Lisa and Mark from Malibu, CA, and Ernie and Wilma from Pasadena, CA - small world! They were all really nice people. Coincidentally (but probably should not have come as much of a surprise) Lisa/Mark and Wilma/Ernie got married on the same day as us! Our jeep driver and tour guide was the hilarious, Mana (or Hey Mana) from Torea Nui tour company.
Our jeep tour itinerary:

1 - Magic Mountain a.k.a. Holy Sh*t Mountain (because that's what you kept saying all the way there as the jeep climbed a very narrow trail close to the edge of the cliff)
2 - Vanilla Bean plantation
3 - Belvedere great view of the mountains and both bays (Opunohu Bay and Cook's Bay)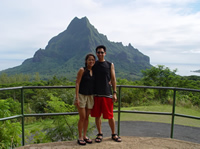 atop Belvedere


View of both bays - Opunohu Bay on the left and Cook's Bay on the right
4 - Marai sacrificial grounds
| | |
| --- | --- |
| signaling tree - natives would hit the base of this tree with a large stone and it would resonate a loud thundering boom | |
5 - Pineapple plantation


a pineapple plantation
6 - Liquor tasting

7 - Fruit snack at waterfalls except there was no water at the falls so we ended up on the beach instead. Jeff got to crack open a coconut.
The Jeep tour was fun (though a little bumpy at times) and well worth doing because we were able to see the entire island of Moorea and meet some cool people.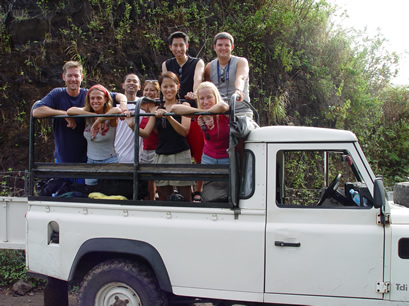 our jeep tour friends
from left: mark, lisa, ernia, wilma, jeff, cheryll, benjamin, joanna
We had heard that there was a sandbar near the hotel that had lots of stingrays. So in the afternoon we decided to take a kayak out to explore and see if we could find the stingrays and snorkel with them. We weren't quite sure where exactly the stingrays were but we had a general idea. So we took a chance and guess what we found… it was very exciting (and a little scary, we admit). Surprisingly, there was no one else there but us and the stingrays. After the stingrays we kayaked around the hotel a short while - we were really starting to get good!
Afterwards, we headed back to the hotel and plopped on some beach chairs in the water only to find hundreds of tiny fish come right up to us, expecting to be fed, I'm sure. So we accommodated by getting some bread and letting them swim between our feet and legs.
That evening, we had a nice, quiet dinner at the hotel restaurant, packed our bags in preparation of our morning flight to Manihi, and read.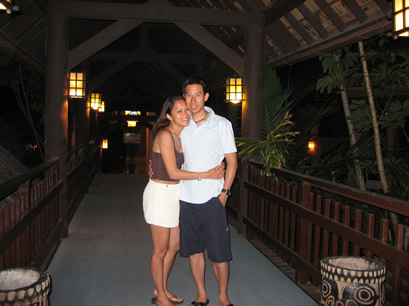 our last night in Moorea